If you're not familiar with workspace as a service, or WaaS for short, it's a type of virtual desktop that allows employees and contractors working for or with a certain business entity access to a number of applications and data – and, from any location in the world. They can also do this on any device of their choice, and access the WaaS virtual desktop at any time of the day. What this represents for business owners is a significant broadening of the prefigured bounds of their business operations. Now, any given office won't be strictly defined as being exclusively in, say, Bombay, or New York, or Toronto. Instead, you can genuinely declare, "We have offices and associates in Rio, London, and Johannesburg".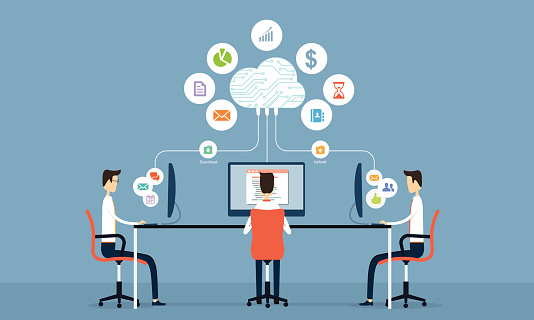 WaaS represents the latest step in the evolution of office applications leaping from on-premise definitions, using servers, workstations, or software over to cloud-based "as a service" solutions like Hardware as a Service and Software as a Service.
Workspace as a Service platforms come ready-made with everything needed for an individual to take care of any office-related tasks. That includes things like anti-virus software, backup tools, productivity apps such as Office 365, accounting software, and much more. For example, one particular WaaS provider has over 2,200 applications in its staff outsourcing solution.
The WaaS virtual desktop is especially ideal for a small business that can't afford the internal resources and infrastructure to manage IT services on their own.
According to Max Pruger, chief sales officer at a prominent WaaS provider, the technology is especially attractive to companies that have elastic demand for labor or that use a remote workforce.
"Accounting firms, for example, balloon in size during tax season hiring freelancers, many of who work remotely," says Pruger. "Firms shrink down to normal size afterwards, and we can turn off access to these remote staff immediately."
How it Works
Employees (and contractors) log into the WaaS provider's platform from their device of choice using the remote desktop client. They are then presented with a virtual desktop environment resembling and looking just like their office terminal. As for the service providers themselves, configuring WaaS is quite easy, and takes as little as a few minutes.
Benefits of WaaS
Here's a condensed list of the main benefits of using a WaaS virtual desktop:
Increased Productivity – Access to all workplace databases from one location cuts down on travel time.
Enhanced Work/Life Balance – Particularly crucial when it comes to sick days or parenting needs.
Consistency of Application-Access Environment – Each employee has equal access to all applications, regardless of experience with the company.
Less Cost – WaaS service providers do all the backend maintenance and management.
Better Security – WaaS utilizes certified Tier 4 data centers, supports disaster recovery and backups, has built-in hacker and virus protection.
Get Started Using WaaS
Get in touch with a local Managed Service Provider (MSP) who can get you connected via WaaS. If you have questions regarding cloud-based work environments like WaaS, eSOZO Computer and Network Services is a proven leader in providing IT consulting in New Jersey. Contact one of our expert staff at (888) 376-9648 or send us an email at info@esozo.com today, and we can help you with all of your cloud computing and WaaS needs.
Author: Aaron White, Date: 4th October 2016