When you're in the market for the ideal business computer, it's not the overall cost but instead the most beneficial tech that holds the most promise in value and longevity.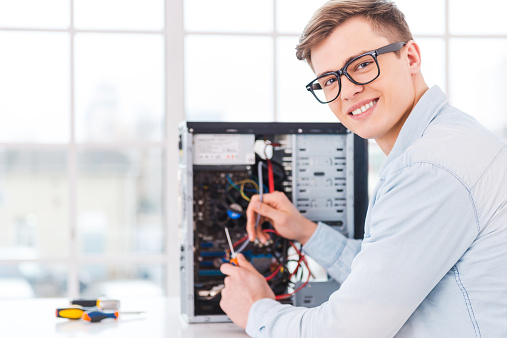 Let's say you find a local electronics ad that features a PC that looks ideal due to the price – though beware, most budget PCs have components that are either already outdated or soon will be. When picking out the best computer for your business, you need to understand both your current and future needs, then purchase a PC that will meet those needs.
Who's the best manufacturer?
There are several manufacturers that sell robust PCs for the small to mid-size business owner, such as HP, Lenovo, and Acer. The great thing about these PC manufacturers is that each one has its own ideal computer product and, depending on your needs, one will be a better fit than the rest. Check online reviews, which are the real bellwether in business reputation.
The portability factor.
It goes without saying that if your work involves you leaving the office or taking it home with you, you should have a laptop. If you are mostly stationary in an office, use a desktop PC and remember to get the best processor possible for your money. Your time is valuable and a better processor will increase your overall profitability.
Get multiple cores.
A processor worth its weight in silicon will have multiple cores. You will need at least a dual core to get the job done at a high-performance rate. Most PC users will not need anything higher than a quad core processor to perform ordinary tasks. However, the more cores present will make your PC not only faster but able to manage more tasks more effectively.
Got graphics power?
Your business model and operations type will decide how much computer graphics power you need. For instance, if you're a graphic designer, you would want something that is going to process graphics at those high-resolution vectors and possibly for some video-editing purposes.
You will want to get a PC with no less than mid-range graphics. However, if you run a coffee shop, video processing wouldn't be key to the core of your business and you would want to spend your money elsewhere, such as on memory or a better CPU. Most on-board video nowadays is sufficient for the small business owner and won't present difficulties with everyday computing.
How much memory do you need?
Again, this boils down to the core attributes of your business and what your business needs to operate effectively. Ideally, at least 4 GB of computer memory is a great standard for any business computer to start with, and most desktop or laptop PCs also offer upgradeability. And, you can always add more memory later, if necessary.
Storage?
The belief among computer experts is – the more space you have, the less chance you have of reaching the storage limit. In today's world, SSD (solid-state disk) storage is the fastest and most sought after type of storage hardware. When picking a hard drive for your system, anticipate how much space you currently need, then project ahead five years so you end up with a PC that can accommodate the evolving factors set for your business.
Talk to a Business Computer Expert
If you need further advice on computers for business networks, a specialist can help you at eSOZO Computer and Network Services, a proven leader in providing IT consulting and computer support in New Jersey. Contact one of our helpful IT experts at (888) 376-9648 or send us an email at info@esozo.com today, and we can help you with any of your questions or needs.
Author: Aaron White, Date: 11th November 2016