November 15th is America Recycles Day. In conjunction with Keep America Beautiful, eSOZO is putting the word out to all of our amazing clients in the hopes that you'll help us in our efforts to keep electronics out of our landfills. On Tuesday, November 15th between 9AM and 4PM, we're inviting you to drop off your unused, unwanted, broken, or outdated electronics at our Flemington office located at 200 Route 31, Suite 202.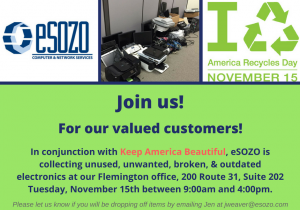 If you would like to participate, please get in touch with Jen at jweaver@esozo.com to let us know that you plan to stop by with items for us to take off your hands.
If you have any questions about this event, please contact us at info@esozo.com or (888) 376-9648. We hope to see you on November 15th!
Author: Aaron White, Date: 31st October 2016