November 4th is Love Your Lawyer Day, a time for appreciating the all-too-often demonized legal warriors whose positive achievements aren't as celebrated as the collective legal profession would like. Created in 2001 by attorney Nader Anise of the American Lawyers Public Image Association (ALPIA), Love Your Lawyer Day is part of a national campaign to have "No lawyer-bashing or jokes for a day". It's all done in a spirit of gratitude for the good works many in the legal profession engage in, but are perhaps not given enough credit for.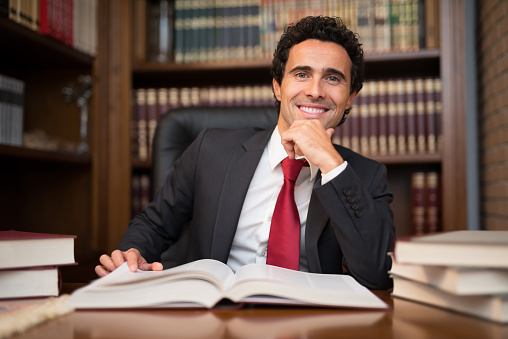 Love Your Lawyer Day: A History
The foundation of today's modern laws (and Love Your Lawyer Day itself, indirectly) has its origins in the Code of Hammurabi, dating to about 1754 B.C. and enacted by King Hammurabi of Babylon. That code consisted of 282 laws, covering everything from family and divorce to paternity to punishments for theft and slavery, and even fines for judges who were found to have rendered wrong verdicts. That ancient code also gave rise to a certain code of conduct to which today's modern lawyers adhere. It's that code of conduct and the rules by which cases are heard and evidence presented that led attorney Anise and ALPIA to create the big, official "thank you" to the legal eagles who diligently argue the cases that make up the framework of our system of law.
Lawyers Need Love, Too
Anise and some of his legal colleagues at ALPIA felt the strong need to create Love Your Lawyer Day because of what he (and they) saw as a rampant lack of respect for the law profession.
"I was kind of tired of lawyers getting beat up on in terms of their image," said Anise, a business attorney. "Lawyers are basically vilified in society and by society, [but] mainly they are doing their job…I wanted to [have] a day to say to lawyers, thanks for doing a good job, and especially for those who give access to justice."
With the aid of the Florida Bar and other bar associations, the day went viral, with countless online posts, shares, photos and #loveyourlawyerday hashtags.
In 2015, the American Bar Association made it official nationwide, declaring the first Friday of each November as Love Your Lawyer Day.
"It's taken on a life of its own," said Anise in an interview with South Florida's Sun Sentinel.
Ways to Celebrate Love Your Lawyer Day
There are many ways to show your love and respect for lawyers on Nov. 4. Not telling lawyer jokes for that day is one way, says Anise, who suggests instead of lawyer jokes making a charitable donation of $20. People over the years have sent cards and flowers to their lawyers, or have written positive testimonials for them. This year the Florida Bar Association had its members hold up a big sign that said "Florida loves lawyers," then sent it out on Twitter.
"We are having everybody in our offices and the next building donate canned foods, supplies and donations for the victims of [Hurricane Matthew that recently struck] Haiti," said Patricia Alexander, president of the South Palm Beach County Bar Association in Boca Raton. "Lawyers get a bad rap, and we do a lot for our community and clients. I think lawyers should be appreciated for [their] efforts."
You can, of course, be creative with how you choose to express your appreciation for attorneys, and show it in whatever way moves you.
IT Experts Showing the Love
For the IT profession, you can show your love of lawyers by giving one of your law clients a free or discounted network diagnostic or security check-up, or something similar. And, if you are a law firm in need of IT services, talk to a specialist at eSOZO Computer and Network Services, which is a proven leader in providing IT consulting, outsourcing, and management to the legal industry in New Jersey. Contact one of our helpful IT experts at (888) 376-9648 or send us an email at info@esozo.com today, and we can help you with any of your questions or concerns.
Author: Aaron White, Date: 4th November 2016