Anyone with any kind of business that wants to improve their IT productivity and performance quotient should look into server monitoring. The main reason to monitor server performance is for troubleshooting problems. With proper server monitoring tools in place, you can use the available resources at hand to track down the server problems and correct them. Another big reason to have ongoing server monitoring service is to improve the server performance itself. There are ways to specifically implement this performance improvement, such as by improving disk I/O, reducing network traffic load on the server, and cutting down CPU usage. Also, if the number of users accessing a particular server is growing, you will definitely want to have a comprehensive server monitoring service in place.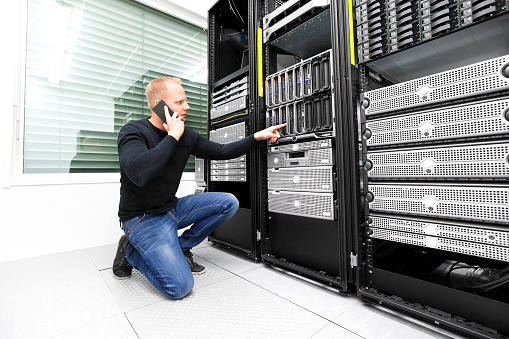 An IT company worth its weight in gold will have customizable server monitoring solutions on offer as part of their services run-down. Network environment and cloud-based system monitoring are additional pluses in this area, reinforcing server monitoring with an overall or holistic regulation of all your entire IT network's functions. A comprehensive, ongoing monitoring strategy should be done by proven IT professionals, and include the following:
Selecting the right server events to monitor
The setting of filters to specify the amount of data collected
Finely-tuned configuration of monitors and alerts that watch-dog the server events
Logging event data for proper analysis
Using Performance Monitor or similar program to analyze the event data toward end-result solutions
The fact is, almost any business of any size could use a server monitoring service, especially if they are a growing company that's putting more users on their server or servers all the time. Many SMBs are growing fast and find themselves in a quandary for exactly how to handle their growing pains – in an IT sense. They throw money out the window (in many cases) in grabbing the first IT company they can to do whatever they can to fix their growing pains. But it takes special planning and dedication, as well as an IT firm that partners with you to design and create the best-performing IT network possible. For growing SMBs, this often includes server monitoring, as well as supplementary network monitoring and diagnostics to help your IT support team to best determine exactly what tools of the trade will be needed.
Call the IT Pros
If you have questions or concerns about server monitoring services, eSOZO Computer and Network Services is the leader in providing managed IT services and consulting in New Jersey. Contact our expert IT staff at (888) 376-9648 or send us an email at info@esozo.com if you want to know more about what server monitoring can do for you, and we will be happy to help.
Author: Aaron White, Date: 21st September 2016